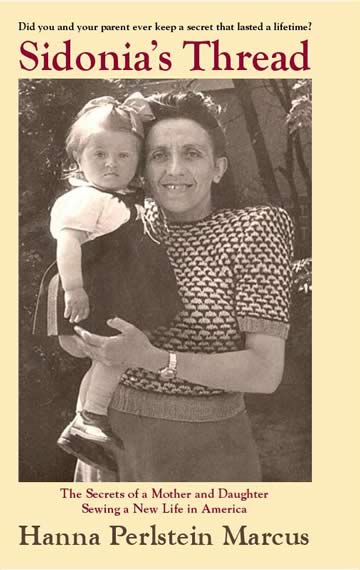 $15.00 Paperback, $7.99 Kindle
Available in:

Paperback, Kindle

ISBN:

Print ISBN: 9781466345034, eBook ISBN: 9781623466206
Purchase on Amazon
Purchase on Barnes & Noble
Purchase on IndieBound
When Hanna Perlstein and her mother, Sidonia, arrive in Springfield, Massachusetts from a displaced persons camp after World War II, they don't know anyone in America. With no other family, except each other, they build a world that revolves around Sidonia's remarkable talent with a needle and thread to create beautiful garments, modeled by her daughter, Hanna.
As Sidonia becomes well known in western New England for her extraordinary sewing talent, she continues to hide the secrets about her past, not only from her daughter, but also from everyone else. Determined to craft a life of pride, self-reliance, and perseverance, Sidonia teaches her daughter to "stand up straight" in fashion and in life. Sidonia's Thread uses sewing metaphors to tell the tale of these two women throughout their life together as though stitched together, like a handmade garment.
Why does Sidonia keep these significant life secrets, and why is Hanna so afraid to ask about them? When Sidonia moves to elderly housing, her daughter steals some of her old letters and photographs, hoping to find clues to her paternity, her mother's reclusiveness, and her heritage. Combined with a trip to her mother's Hungarian homeland and a phone conversation with her father, Hanna's surprising discoveries inspire a revised view of her life with her mother, replacing her conflicting emotions toward her mother with true reverence.
Sidonia's Thread Excerpt
The Prologue
My mother died on Mother's Day, that second Sunday in May when we Americans celebrate motherhood by paying homage to the women who sacrifice so much for the sake of their children.
For all my childhood, it was just the two of us. Yet my mother had gone to her rest on that Sunday morning without ever revealing my father's identity or the truth of my conception. It took me a long time to figure things out, struggling to piece together clues through her old correspondence and photographs. I never told her about my discoveries, worried that I might drive her to the point of madness. At the end, we both had our secrets, each confident that the other knew nothing of her darkest, deepest mysteries.
My mother was a very deliberate woman. Everything she did had a method, a reason, and a purpose. She had a grand plan for me, her daughter, her only child and closest living relative. But she never divulged it to me as I developed into the perfect, yet often reluctant, model for her fashion acumen and imagination. Our relationship revolved around her ideas for creative design and her ability to implement them by pushing thread through a needle with her hands or through a sewing machine. My job was to wear and exhibit the handmade clothing, eliciting the inevitable admiring looks and comments that came from anyone who had the pleasure of viewing them. Her job was to achieve fulfillment through the praise of all those who saw her creations, and to make sure I did not slouch on the job.
We came to America from a displaced persons camp in Germany when I was two years old. It was in 1949, and we rented a room from a widow who lived in the north end of Springfield, Massachusetts. It was there that I started to collaborate with my mother to display her masterful stitchery, yet there was a dark secret that hovered over our bond for all the years of our life together.
Reviews for Sidonia's Thread
"Sidonia's Thread is the unraveling and telling of one woman's remarkable survival. It is a highly readable story that is not to be missed. Sidonia's Thread is one of those books that the reader will not be able to put down until the last word is read and the book put aside. The writing is superb and the characters spring to life in the book's pages."
-Alice D. for Reader's Favorite
"As a memoir Sidonia's Thread is a tapestry woven from stories of the Holocaust, coming-of-age, mothers and daughters, unclear identity, and secrets–the key threads of many woven around the basic imagery of Sidonia as a seamstress…"
-Judy Alter for Story Circle Book Reviews