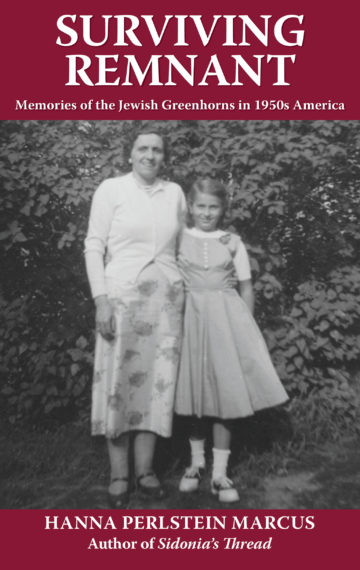 $16.00 paperback, eBook $9.99
Publisher:

Buttonhole Publishing

Edition:

1

Available in:

Paperback, eBook

ISBN:

Print: 9780997971200, EBook ISBN: 9780997971217

Published:

March 14, 2017
Purchase on Amazon
Purchase on Barnes & Noble
Purchase on IndieBound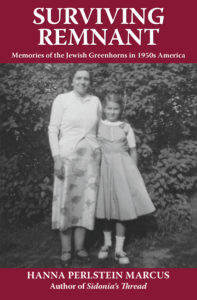 Set in the deteriorating north end of Springfield, Massachusetts in the 1950s and early '60s, Surviving Remnant is Hanna Perlstein Marcus' sequel to her award-winning memoir, Sidonia's Thread. In Surviving Remnant, she recreates her childhood community of ambitious, humorous, and resilient immigrant refugees who occupy an apartment building, eager to adapt to their new homeland and build new lives for themselves and their children in the aftermath of the Holocaust.
Within the backdrop of the acculturation of these new American residents, we meet the group of individuals and families who live, play, and work in their neighborhood. While deeply enmeshed in the everyday occurrences of her community, Marcus, as a child, is determined to find a suitable husband for her single mother and a benevolent father for herself among the available bachelors. Along the way, she becomes a fanatical Brooklyn Dodgers fan, a misguided violinist, a somnambulist, a neurotic, and noted fashion model for her mother's stunning clothing designs.
Marcus' experiences growing up with her mother in an enclave of Holocaust survivors portray a story no one knows… until now. Surviving Remnant is an authentic look at a poignant immigrant saga from deep inside.
Download Surviving Remnant Sell Sheet
Surviving Remnant Excerpt
Prologue: The Show
Da show vill start in ten minutes, announced a woman in broken English while banging on our door. Before we could even open it, we heard her loud footsteps as she sprinted down the stairs. I was not interested in seeing the show again. What's to see? The boy had performed his act many times, and while it was true that it was always a big hit in our community, I did not need to see it another time.
But Hanele, my mother groaned in her still ­thick Hungarian accent, ve have to go or else everyvon gonna tink ve are stuck up!
Okay, okay, I'll go, but this is the last time, I said, while pouting and rolling my eyes.