Sidonia's Thread -The Secrets of a Mother and Daughter Sewing a New Life in America
When Hanna Perlstein and her mother, Sidonia, arrive in Springfield, Massachusetts from a displaced persons camp after World War II, they don't know anyone in America. With no other family, except each other, they build a world that revolves around Sidonia's remarkable talent with a needle and thread to create beautiful garments, modeled by her daughter, Hanna.
As Sidonia becomes well known in western New England for her extraordinary sewing talent, she continues to hide the secrets about her past, not only from her daughter, but also from everyone else. Determined to craft a life of pride, self-reliance, and perseverance, Sidonia teaches her daughter to "stand up straight" in fashion and in life. Sidonia's Thread uses sewing metaphors to tell the tale of these two women throughout their life together as though stitched together, like a handmade garment.
Why does Sidonia keep these significant life secrets, and why is Hanna so afraid to ask about them? When Sidonia moves to elderly housing, her daughter steals some of her old letters and photographs, hoping to find clues to her paternity, her mother's reclusiveness, and her heritage. Combined with a trip to her mother's Hungarian homeland and a phone conversation with her father, Hanna's surprising discoveries inspire a revised view of her life with her mother, replacing her conflicting emotions toward her mother with true reverence.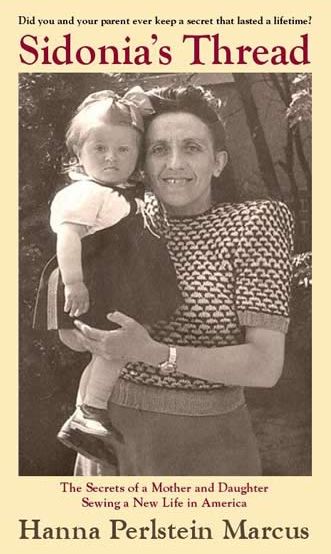 Publisher: CreateSpace
Available in: Paperback, eBook
ISBN Print: 9781466345034
EBook ISBN: 9781623466206
Excerpt from Sidonia's Thread
The Prologue
My mother died on Mother's Day, that second Sunday in May when we Americans celebrate motherhood by paying homage to the women who sacrifice so much for the sake of their children.
For all my childhood, it was just the two of us. Yet my mother had gone to her rest on that Sunday morning without ever revealing my father's identity or the truth of my conception. It took me a long time to figure things out, struggling to piece together clues through her old correspondence and photographs. I never told her about my discoveries, worried that I might drive her to the point of madness. At the end, we both had our secrets, each confident that the other knew nothing of her darkest, deepest mysteries.
My mother was a very deliberate woman. Everything she did had a method, a reason, and a purpose. She had a grand plan for me, her daughter, her only child and closest living relative. But she never divulged it to me as I developed into the perfect, yet often reluctant, model for her fashion acumen and imagination. Our relationship revolved around her ideas for creative design and her ability to implement them by pushing thread through a needle with her hands or through a sewing machine. My job was to wear and exhibit the handmade clothing, eliciting the inevitable admiring looks and comments that came from anyone who had the pleasure of viewing them. Her job was to achieve fulfillment through the praise of all those who saw her creations, and to make sure I did not slouch on the job.
We came to America from a displaced persons camp in Germany when I was two years old. It was in 1949, and we rented a room from a widow who lived in the north end of Springfield, Massachusetts. It was there that I started to collaborate with my mother to display her masterful stitchery, yet there was a dark secret that hovered over our bond for all the years of our life together.
I had no father growing up. Yet I sensed at a very early age that the subject of my father, who he was and the reasons for his absence, was forbidden in our household. So I kept my questions about my paternity bottled up inside for more than fifty years, vowing never to hurt my mother by bringing up the events of her life in a displaced persons camp. Then, on the eve of her move to elderly housing, I discovered the cache of letters and photographs that finally gave me clues to my real identity. Combined with a visit to my mother's home village in Hungary and a lone interview with her recorded on video, I uncovered the secrets that changed my view of her forever.
Throughout her sewing career, my mother owned only one sewing book, Coats and Clark's Sewing Book: Newest Methods from A to Z, a gift in 1967 from an appreciative recipient of her design talents. Although I never learned to sew myself, I instinctively knew that if I were ever to recount the story of our life together, I would accomplish it metaphorically through the chapters of this sewing tutorial. Therefore, each chapter of this book is titled by a sewing technique and related quotation from the 1967 first edition of Coats and Clark's Sewing Book that suits the events portrayed in that segment of the story.
No metaphor is more important than thread, incorporated into the book's title. "Thread" represents Sidonia's vision for her daughter's future and her weaving of stories that tie early twentieth century Hungary to twenty-first century America. It creates the texture of a family that her daughter never had as a child, her great artistic gifts as a designer and fabricator of beautiful garments, and her chosen method of bonding with the child she loved.
When the few remaining souls who knew my mother before she came to America, except one, refused to grant interviews about her early days, I abandoned my original idea of including intense genealogical research and dialogues with friends and relatives. I decided, instead, to write a deeply intimate story based primarily on memory and my mother's personal documents, with only a few genealogical references, preferring to stretch my imagination and test my fantasies.
My mother passed away in 2006, aware I was writing about her life. She would have been satisfied and proud of my memories about our journey together to make successful lives in America and gratified by my veneration of her supreme talent as a fashion designer, creator, and maven. Yet, she also would have been terribly wounded by my revelations about the secrets she had tried so hard to keep from me for so long.
As I wrestle with the guilt of divulging such painful truths, I often talk to my mother as if she were still alive and tell her that it is better this way. Finally, the burden of humiliation and disgrace has been lifted, and the world can come to know my real mother, whose strength of character and courage were so significant that, as opposed to denouncing her in shame, the angels call to one another in praise of her honor.