Surviving Remnant – Memories of the Jewish Greenhorns in 1950s America
Set in the deteriorating north end of Springfield, Massachusetts in the 1950s and early '60s, Surviving Remnant is Hanna Perlstein Marcus' sequel to her award-winning memoir, Sidonia's Thread. In Surviving Remnant, she recreates her childhood community of ambitious, humorous, and resilient immigrant refugees who occupy an apartment building, eager to adapt to their new homeland and build new lives for themselves and their children in the aftermath of the Holocaust.
Within the backdrop of the acculturation of these new American residents, we meet the group of individuals and families who live, play, and work in their neighborhood. While deeply enmeshed in the everyday occurrences of her community, Marcus, as a child, is determined to find a suitable husband for her single mother and a benevolent father for herself among the available bachelors. Along the way, she becomes a fanatical Brooklyn Dodgers fan, a misguided violinist, a somnambulist, a neurotic, and noted fashion model for her mother's stunning clothing designs.
Marcus' experiences growing up with her mother in an enclave of Holocaust survivors portray a story no one knows… until now. Surviving Remnant is an authentic look at a poignant immigrant saga from deep inside.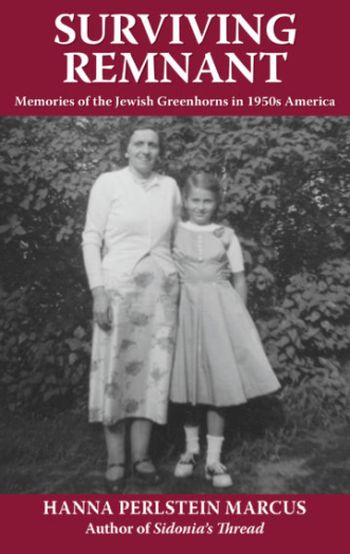 Publisher: Buttonhole Publishing
Edition: 1
Available in: Paperback, eBook
ISBN Print: 9780997971200
EBook ISBN: 9780997971217
Published: March 14, 2017
Booksellers interested in adding Surviving Remnant to your selection – please contact Ingram® for distribution.
Excerpt from Surviving Remnant
Prologue: The Show
Da show vill start in ten minutes, announced a woman in broken English while banging on our door. Before we could even open it, we heard her loud footsteps as she sprinted down the stairs. I was not interested in seeing the show again. What's to see? The boy had performed his act many times, and while it was true that it was always a big hit in our community, I did not need to see it another time.
But Hanele, my mother groaned in her still ­thick Hungarian accent, ve have to go or else everyvon gonna tink ve are stuck up!
Okay, okay, I'll go, but this is the last time, I said, while pouting and rolling my eyes.
We went down the three flights of stairs that reeked from the mouse cemetery amid its treads. Then we walked outside to the rear section of our building, where the apartments on Osgood Street were quite a bit smaller than our two-­bedroom unit. The warm, breezy mid-­summer day had already turned into near dusk when most of the adults were home from work and families had already eaten their supper. It could not have been more convenient or economical to see a free show right in our own building and, at the same time, one suitable for adults to take their kids.
As we walked into the Landsmans' tiny kitchen, we observed that about twenty people, adults and children, had already crowded into the room and spilled out into the adjacent hallway. Almost every inch of space was occupied, some people seated at the kitchen table, some on folding chairs, and many just standing wherever a piece of floor was still available. After our arrival, five or six more eager attendees opened the screen door and inched into the over­ flowing crowd. They must have been standing on one foot or floating on air.
The mother and father were roaming the small, packed room as best they could, chatting with each person about the wonderful show they were about to see, so proud of their only child's ability to elicit the raucous laughter they had seen at previous shows. Just vait, his mother said, It's gonna be even better den last time. You tink Milton Berle is funny? Dis is just unbelievable!
Soon, the boy came out of his bedroom, which was also the family dining room, and gave his enraptured audience a big smile. I wondered how the spectators could be so excited about a show many of them had seen several times before, but they hooted and hollered at him as though he were, in fact, Milton Berle.
He was a tiny, dark-­haired boy with big brown eyes, smaller than most boys his age, which was seven, the same age as me. As he stood in front of the kitchen sink wearing a short-­sleeved, multi-­colored shirt that hung outside his brown pants, he looked around without saying a word, smiling at each person.
Then, with no introduction, while the audience was fervently shouting his name, he proceeded slowly to unbutton his shirt, finally ripping it off to reveal a naked chest and torso underneath. He stuck out his chest as far as it would go, revealing not much more than skin and bones. He was so skinny that when he did this, each bone was clearly delineated; the audience could see his full rib cage as though it were an x-­ray image. He might have been even skinnier than he had been at his earlier performances.
Despite my initial reluctance to attend this bizarre event, the intense laughter of everyone in the room seemed to rub off on me. We all remained laughing for the next few minutes as the boy turned from side to side and front to back displaying his emaciated upper body. Some of the adult attendees were even pointing at him with awe and loudly talking to each other in Yiddish about the phenomenon they had just witnessed, as though they had never seen anything like it before in their lives. Oy, er iz azoy moyger [Oh, he is so skinny]!
The boy's parents were beaming from ear to ear and whispered to several of the spectators, See, ve told you it vould be unbelievable. The exhibit was over in a matter of minutes, but the crowd lingered for another hour or so to continue to kibbitz with one another about this extraordinary spectacle and to have a glass of tea and coffee cake baked by the boy's mother, the best cook in the community.
My mother and I stayed for just a little while, long enough to eat a piece of the homemade cake, but then, at my insistence, we left to go back to our apartment. Okay, Hanele, ve came, ve saw. Now ve can go, my mother said, having never heard of Julius Caesar. We had met our obligation to attend the show, and my mother was satisfied we had not turned up our noses at the popular event. I have to admit, though, in spite of my resistance, we did our share of laughing along with the rest of the audience.
Nothing produced such delight among the grine as Yussie's body exhibition. Not even Milton Berle. The irony of it all was that only a decade earlier, the same adults in the room who had erupted in wild spontaneous amusement at the sight of the gaunt figure, had each looked just like him. So what was so funny? I was not able to figure that out for some time to come.